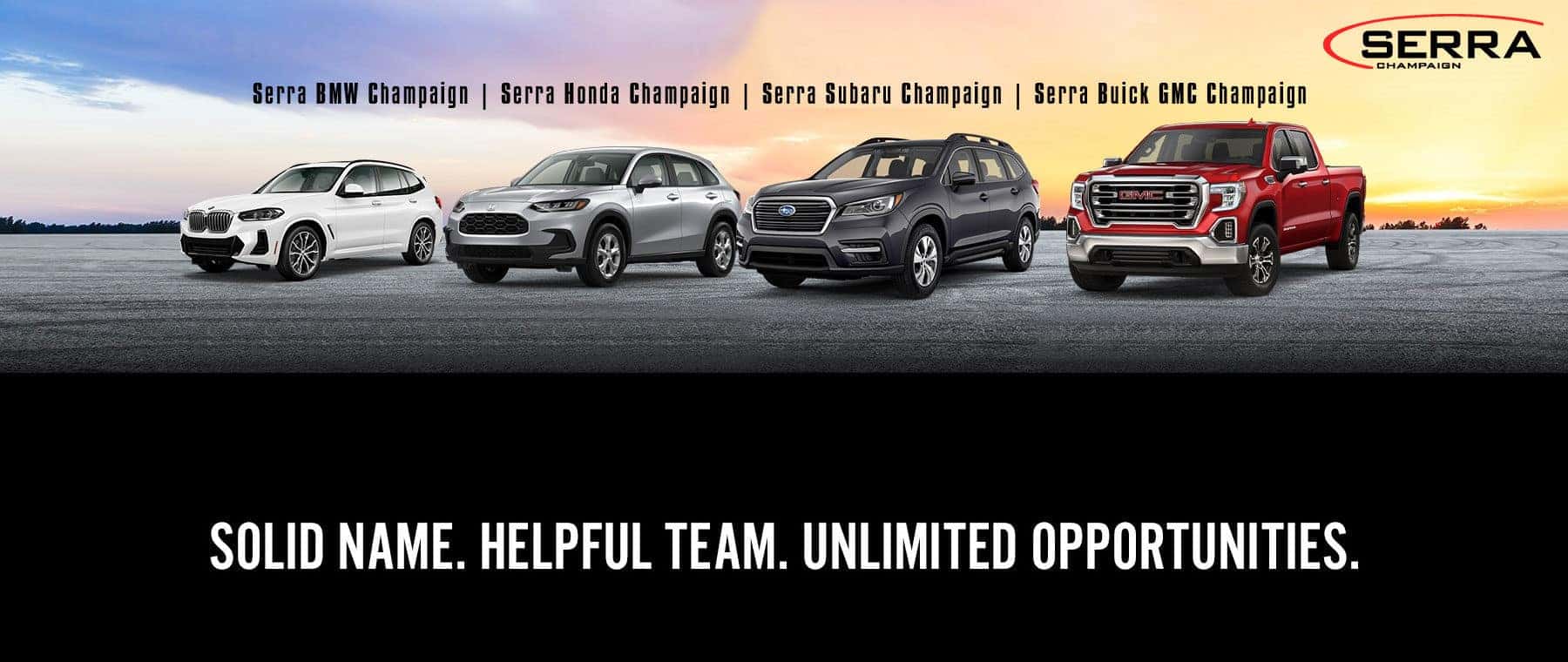 Welcome to
Serra Champaign
Local Car Dealers for All Your Needs
Serra Champaign Offers New or Used Buick, BMW, Honda, GMC and Subaru Dealers in Savoy
When it's time to buy your next vehicle the dealership matters. At Serra Champaign, you can browse new Buick, BMW, Honda, GMC and Subaru models with great specials. With the buying power of our automotive group each dealership can offer competitive prices, and has access to a vast inventory of new and used vehicles. You'll find used cars for sale from all the makers we represent and more. This means that no matter what your budget is you'll find a wide range to choose from.
Our goal is to meet the automotive needs, and exceed the expectations, of local Illinois drivers we serve from Savoy, Danville, Bloomington and Decatur. For that reason, you'll find easy access to auto financing tools, and a great service center for all your maintenance and repair needs.
Want to Talk Auto Finance?
Let Our Serra Champaign Finance Departments Help You Finance Your Car
Serra Champaign has done everything that we can in order to make the car buying process as seamless as possible. Our extensive catalogue of new Buick, BMW, Honda, GMC and Subaru models makes it easy for you to find the car that you want. After you have selected the vehicle, we will be able to help you finance it. You can tell us what your budget is, and we will be able to work with it. You may have several questions that need to be answered before you finance a car. We are here to answer the questions that you have. We will also make sure that understand the terms and conditions of the lease or loan before you sign on the dotted line. The thought of having to crunch numbers can be intimidating. However, you won't have to worry about that if you choose us. We can do all of the math for you. This will allow you to enjoy your car faster.
We Keep You Going
A Full-Service Dealership for Savoy Drivers
The key to building a lasting relationship with any vehicle is proper care and maintenance. At Serra Champaign we want our relationship with you to last long after you've driven away in your new Honda Civic, Subaru Forester, Buick Encore GX, BMW X3 or GMC Sierra 1500. Let our expert service and parts centers help you get the most out of your vehicle investment with proper maintenance and after-purchase care. Our service center is Buick, BMW, Honda, GMC and Subaru certified, and we only use genuine, authentic manufacturer parts in all our orders and repairs, so you know your car, truck, or SUV is only getting exactly what it needs to run and look great for a long time to come. Click through our website and get acquainted with all of our professional automotive services, then make the trip to visit us in person soon in Savoy.